Welfare and Lying with Statistics
On Facebook, I ran across a graphic posted by "Things Liberals Hate" and shared by a Facebook friend. (The "share" apparently no longer exists in my friend's thread, a few minutes after posting a link to my criticism to the thread. However, The Weekly Standard shows the original graphic.) It shows a bar graph of increasing numbers of Americans accepting some form of "federal welfare". Beyond the terms of art in the original graphic, it has an immediate impact of implying that maybe 4x the number of people on welfare in 2009 Q1 were on welfare come 2011 Q2. That is, until one pays closer attention to the range of values on the Y axis. The range is from 94 million to 108 million. This gambit is a classic and is prominently featured in the also-classic book, Darrell Huff's "How to Lie with Statistics". Here's a version of the original graphic I made using the same Y-axis range.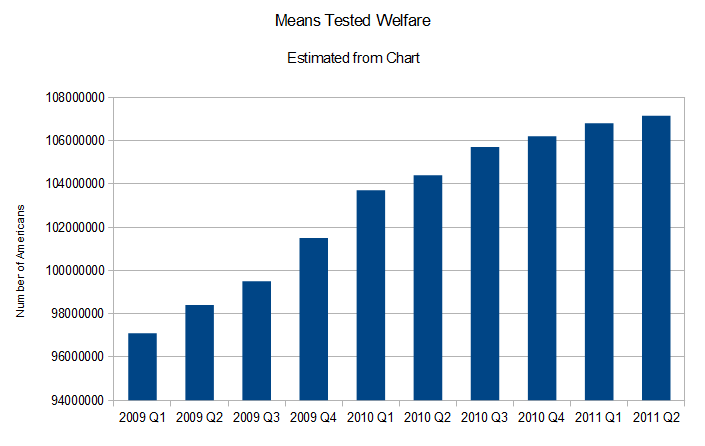 In order to illustrate how the numbers ought to be presented, I estimated the values out of the original graphic (with the help of a business card as a straight-edge), popped those into a spreadsheet, then graphed them with a Y-axis range of 0 to 108 million. I've re-graphed the points with the full Y-axis range. One can see that there is far less drama in the graph that shows the actual full range of numbers. Accepting for the sake of argument that 2011 Q2 number represents 0.33x the USA population, there is an approximate 3.1% increase in welfare recipients over the period in the graph, not the 4x visual increase suggested by the original graph. That's actually pretty darn good, given just how awful the Bush(2) recession is.