It's been a bit since I've written something here. I am still working on the recovery. I can get up and move around easier now, but I still get tired very easily. Come next Tuseday, I will have my last dose of prednisone. It is good to be coming off that drug.
I have a picture of my parents, Diane, and I in front of our house…
Diane, Robin, and I visited the Marine Mammal Center at Marin County last week. This is the stranding network for northern California, and they had elephant seal pups, sea lions affected by domoic acid (an instance of bioconcentration of toxins produced by dinoflagellates), and harbor seal pups.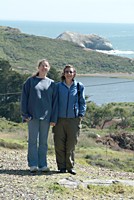 Before Robin left for Florida, she got to feed Beater, one of our male Harris's hawks.
Diane's parents, Sam and Marguerite, are visiting with us currently. We went up to Fairfield and had dinner with Diane's brother Joe and his wife Angela: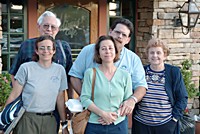 I've been in to the office a couple of times this week for two or three hours each time.